My reading experiences from 2015
were so wonderful!!
I can't imagine that another year will provide just as many wonderful experiences,
I am certain there are some exciting releases scheduled for 2016 of which I am unaware, there are already many that
I am anxiously awaiting!
I have listed 20 here and already have another 13 marked in Goodreads!
So many to anxiously await! :)
(I do realize I am posting this two days late, on Thursday, but I was indisposed!)
January 5, 2016
The Restaurant Critic's Wife by Elizabeth LaBan
This looks as if it might a bit of fiction to start the new year. A woman feels as if she has become 'lost' in her marriage and her husband's obsession with his career and need to remain "anonymous" to the world. This is a perspective I had never considered of being a restaurant critic, though I can certainly relate to the feeling of having lost oneself in a marriage relationship. :)
January 5, 2016
A Thousand Naked Strangers: A Paramedic's Wild Ride to the Edge and Back by Kevin Hazzard
This sounds utterly fascinating. I cannot imagine what all a paramedic may encounter in his/her line of work! I'm sure there are stories galore! This will fit in with my intention to read more nonfiction this year, too! So, learning more about a career of which I know virtually nothing and increasing my nonfiction reads--a win-win!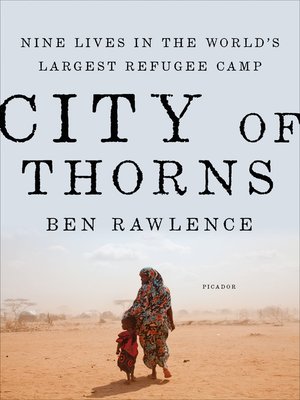 January 5, 2016
City of Thorns: Nine Lives in the World's Largest Refugee Camp by Ben Rawlence
How can we, who are so fortunate as to be born to a life of 'luxury' in comparison, not care about the lives of those who are displaced by events and situations totally beyond their control? I feel so very much for such people. I am fortunate enough to know some who have had the money and wherewithal to escape to the U.S., but for those with no such resources...well, it is an unimaginable existence, in my world. I'm sure I'll feel similarly to this book as I did Katherine Boo's Behind the Beautiful Forevers: Life, Death and Hope in a Mumbai Undercity. That and Little Bee by Chris Cleave were two of the most difficult books I've read, but also two of the most rewarding in gained insight and sympathy/empathy. Also, another nonfiction read!
January 5, 2016
My Name is Lucy Barton by Elizabeth Strout
Although I read and did not love Olive Kitteridge, I admit I haven't read The Burgess Boys, released in 2013. (I admit I did not agree that Olive Kitteridge was Pulitzer Prize winning material, though all such judgments are definitely subjective--we'll agree with some and disagree with some.) However, I believe this premise will be interesting and I would like to give it a try. Note that there is a discrepancy--Goodreads claims this will be released January 5th and Strout's website claims it won't be released until January 12th.
January 12, 2016
The Longest Night by Andria Williams
This is a debut novel and historical fiction. Based upon the only nuclear disaster to strike in the U.S. and a couple's battle to save themselves and this town. What would you do if you were a military person and discovered the nuclear installation you were monitoring had been compromised? I just think there is so much angst, frustration and indecision to be covered in this one. It will be interesting to see how Williams handles this. And I'm anxious to understand how the cover image fits in... :)
January 12, 2016
American Housewife: Stories by Helen Ellis
I admit to being rather fascinated by the prospect of the humor contained within these stories. I assume I will either love this one or hate it, but I'm willing to give it a shot! :) And who knows? It might be a good one for the Literary Wives theme! :)
January 12, 2016
The Hundred-Year Walk: An Armenian Odyssey by Dawn Anahid MacKeen
This cover image alone fascinates me! But then, to consider I will learn about the "twentieth century's first large-scale genocide" is even more intriguing...to travel to Turkey and Syria to retrace your ancestor's life's journey. Amazing. Especially since these areas are still rife with political, economic, and cultural tension and uncertainty. This is a debut novel that the author has worked on for a decade. I just can't imagine it isn't a great one!
January 12, 2016
Fallen Land by Taylor Brown
I admit that as I read the Goodreads synopsis I was rather reminded of Neverhome by Laird Hunt which I read and wasn't overly impressed with, except that I did feel it was realistic in many ways and I could understand much better exactly how it was for people during Civil War times, though the story itself was exceedingly depressing to me with no glimmer of hope... I have my fingers crossed that this book will not be similar in the depressing sense and will present a bit more balanced story. It is also a debut novel with Brown having had only a short story collection published previously.
January 19, 2016
Moonlight Over Paris by Jennifer Robson
This looks very interesting to me, especially an English aristocrat willingly relinquishing all that to run with the U.S. expats in the 1920's. I really enjoyed The Paris Wife by Paula McLain (Literary Wives read #2) and would like to read some more about this time period in Paris/Europe with U.S. expats...
January 26, 2016
I have read and loved
Alive I Have Been
and
The Aviator's Wife
(
Literary Wives
read #4) written by her. I own
The Autobiography of Mrs. Tom Thumb
but have yet to read it. (Earlier this year, Melanie claimed this is her favorite of the books she had written thus far.) And she is a Hoosier, born and raised in Indiana! So a 'local' girl! I cannot wait for this one! I hope to catch her on tour this year! One of my absolutely favorite authors!
January 26, 2016
The Mystery of Hollow Places by Rebecca Podos
A YA book! This is Podos' debut novel. She is herself a literary agent. Although I don't read a ton of YA, I do try to fit one in when it sounds worthy, and this one does! Plus I love mysteries, so hopefully, this will be a good read!
January 26, 2016
The Ex by Alafair Burke
Burke is one of my absolutely favorite authors! I have loved everything she's written! Yes, I've read them all with the exception of the two she co-wrote with Mary Higgins Clark, though I own them both and am planning to read those, too! Her two series with Ellie Hatcher and Samantha Kincaid are superb! This is a stand-alone novel and I'm sure it is just as wonderful as all her other books!
January 26, 2016
All the Birds in the Sky by Charlie Jane Anders
While apocalyptic tales are rarely on my TBR, this one sounded worth trying...
January 26, 2016
The Evening Spider by Emily Arsenault
Honestly, the fact that Melanie Benjamin reviewed and like it...that's enough to recommend it for me!
"A tale of dusty old journals, creaky houses, and ghostly whispers...to keep you up all night with a light burning until you reach the surprising end...a gothic novel with a modern twist."
Melanie Benjamin, New York Times best-selling author of The Aviator's Wife and The Swans of Fifth Avenue
February 1, 2016
Loving Eleanor by Susan Wittig Albert
Again, Albert is one of my absolutely favorite authors and I'm relatively certain to like whatever she writes, and this one has a premise/subject that is fascinating to me!
February 2, 2016
Missing Pieces by Heather Gudenkauf
I read and loved her debut novel, The Weight of Silence, but have yet to read anything else she has written. I'm hoping to change that in 2016 and this sounds fascinating.
February 23, 2016
Flight of Dreams by Ariel Lawhon
I loved loved loved The Wife, the Maid, and the Mistress (Literary Wives read #6) and am thrilled to read anything else Ms. Lawhon writes! Especially since she was gracious enough to share a follow-up post to her book!
February 23, 2016
Under the Influence by Joyce Maynard
Another one of my absolute favorite writers! Though I own several of her books, thus far I have only completely read two, The Good Daughters and Labor Day. I loved them both!
March 1, 2016
Teaching While Black in New York City's Public Schools
by Pamela Lewis
Being a 'displaced teacher' myself, and being 'white,' this looks to be a very controversial educational perspective. I am certain that Ms. Lewis's perspective is much more valid than any white person's. She lives and breathes the reality for black children in the current educational system. I'm certain this book will reveal some truths and insights that would otherwise remain unknown to the vast majority of teachers in our public educational system. For that reason alone, all teachers should probably read this. I'm anxious to see what she has to say! (I would be curious to know how this cover image was selected. It is unique!)
March 29, 2016
Journey to Munich by Jacqueline Winspear (Maisie Dobbs #12)
I love love love this woman's writing! I am currently reading book #5 in this series. Really, I just can't say enough good about this series! I feel her writing gets deeper as she goes through the series. She tackles controversial societal/cultural issues without beating you over the head--just by demonstrating them through her characters. And Maisie...well, she certainly isn't perfect, but she gives 1,000%!